Announcements
Due to the rapid pace of information, updates and resources relating to COVID-19 and the Coronavirus have been moved to its own page. Other updates, announcements, and opportunities will remain on this page.
Mountain View Marketplace
---
Northern California Stakeholders Survey for HSR
---
#BikeMatchSV: Get a Bike, Give a Bike, Fix a Bike
---
Legal clinic
---
Overnight Ramp and Lane Closures on Interstate 280 In Multiple Cities within San Mateo/Santa Clara Counties
Santa Clara and San Mateo Counties – Caltrans will begin a resurfacing and improvement project on Interstate 280 (I-280), in the following cities; Menlo Park, Los Altos, Los Altos Hills, Cupertino, and Palo Alto. The project will begin north of Sand Hill Road in San Mateo County, to Foothill Boulevard in Santa Clara County.
Construction will include grinding and paving, curb ramps and guardrails enhancements to preserve and extend the life of the existing pavement and improve ride quality on I-280. Project activities will be conducted during the evening. Intermittent ramp and lane closures will take place with at least one lane for traffic throughout the night. Detours will be in place. Work will continue throughout the Summer of 2022.
Overnight Work Schedule:
Northbound and Southbound I-280
Monday through Friday: 7:00 PM to 7:00 AM
Residents will experience normal construction noise, which will be monitored.
Message and directional signs will be in place to assist motorists traveling in the area. For 24/7 traffic updates, follow 511.org: https://twitter.com/511SFBAY.
For real-time traffic, click-on Caltrans QuickMap: http://quickmap.dot.ca.gov.
---
Caltrain Electrification
In Summer 2018, Caltrain began performing work along the railroad corridor in Mountain View.
The activities during this time included locating underground utilities, testing soil conditions, inspecting signal/communication equipment, potholing, and pruning/removing trees in preparation for the installation and operation of the Overhead Contact System that will power electric trains.
Caltrain crews will be extending the existing set-out track approximately 500 feet in order to accommodate on-track equipment required for Caltrain Electrification. The current set-out track is between Farley Street and South Shoreline Boulevard in Mountain View. Construction will require a staging area for foundation installation, pole installation, construction material and pole delivery and storage as well as for loading and unloading of train cars. The loading and unloading of construction train cars and equipment will require the use of trucks, loading of construction trains and occasional use of backup alarms. Staging is expected to begin in October 2019 with construction occurring over a 8-12 month period.
Vehicles will enter the staging area off of Central Expressway at Farley Street. Egress will occur south of South Shoreline Boulevard back onto the Central Expressway.
.
CONSTRUCTION AREA MAP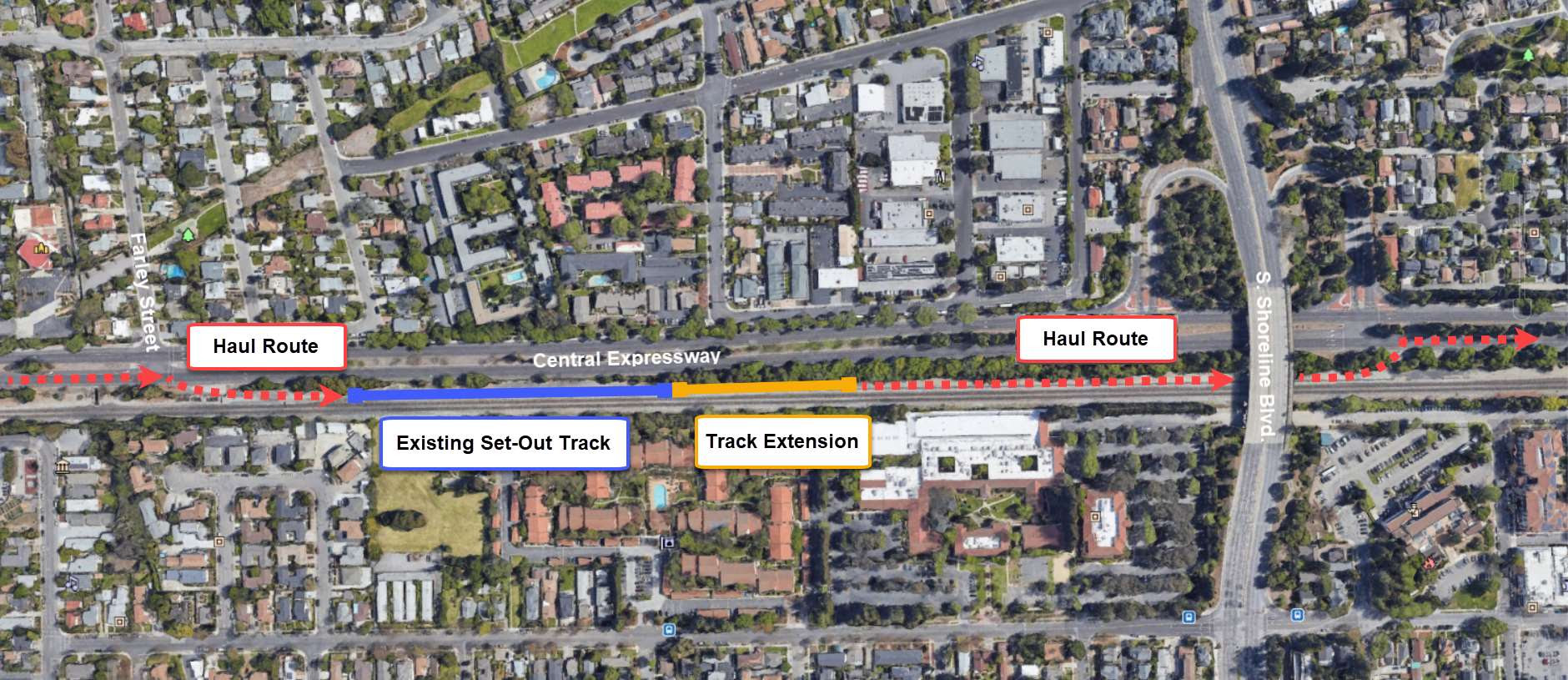 ---
Mountain View Green Building and Reach Codes FAQ
The City's Community Development Department has created a new webpage to provide information regarding the recently adopted Reach Codes.
Information regarding the City's Amended Green Building Codes (MVGBC) and Reach Code:
---