Announcements
El curso de CERT en Español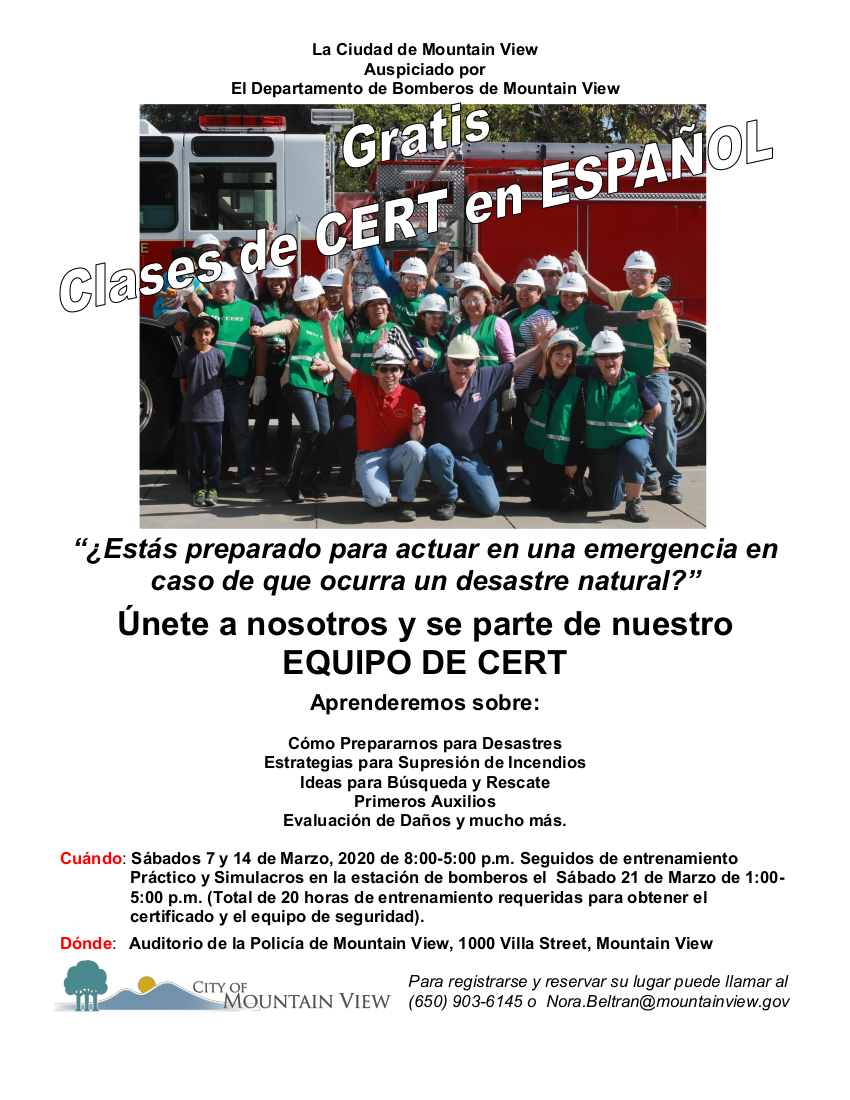 El curso de CERT en Español será ofrecido una vez más durante Los primeros tres sábados de marzo del 2020. Nuestro objetivo es que todos los graduados de las tres Academias sean también graduados del programa para preparación de Emergencias CERT. Felicidades a los que ya se graduaron de ambos programas. Si todavía no lo han tomado, el curso de CERT en Español será ofrecido una vez más durante Los primeros tres sábados de marzo del 2020.
Las inscripciones ya están abiertas y el cupo es limitado. Queremos darle prioridad a los graduados de la Academia y por eso estamos insistiendo en que se registren lo más pronto posible . Para más información ver el folleto adjunto o comunicarse con Nora Beltran al (650) 772-8835 o enviar un correo electrónico [email protected]
---
Jingle Ball
---
Saturday, December 14
6:30 - 8:00 p.m.
Mountain View Community Center
201 S. Rengstorff Avenue
Dance the night away with Santa and Mrs. Claus in your best attire. It'll be an evening filled with dancing, crafting and spreading holiday cheer. Registered adult(s) must be accompanied with a registered child(ren). For ages 6 and up. Activity #12287. Cost $15.
Register at www.mountainview.gov/register
Call 650-903-6331
---
Caltrain Electification
In Summer 2018, Caltrain began performing work along the railroad corridor in Mountain View.
The activities during this time included locating underground utilities, testing soil conditions, inspecting signal/communication equipment, potholing, and pruning/removing trees in preparation for the installation and operation of the Overhead Contact System that will power electric trains.
Caltrain crews will be extending the existing set-out track approximately 500 feet in order to accommodate on-track equipment required for Caltrain Electrification. The current set-out track is between Farley Street and South Shoreline Boulevard in Mountain View. Construction will require a staging area for foundation installation, pole installation, construction material and pole delivery and storage as well as for loading and unloading of train cars. The loading and unloading of construction train cars and equipment will require the use of trucks, loading of construction trains and occasional use of backup alarms. Staging is expected to begin in October 2019 with construction occurring over a 8-12 month period.
Vehicles will enter the staging area off of Central Expressway at Farley Street. Egress will occur south of South Shoreline Boulevard back onto the Central Expressway.
.
CONSTRUCTION AREA MAP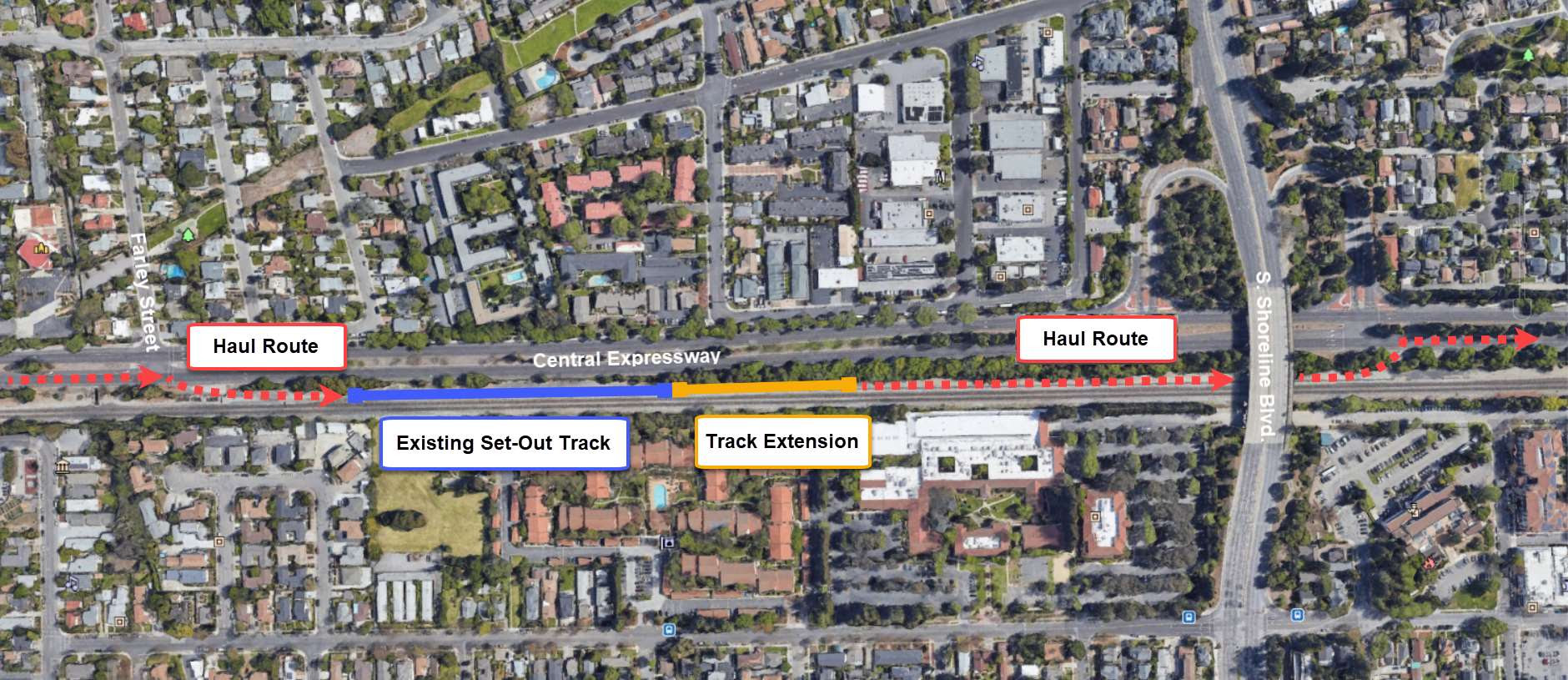 ---
Mountain View Rent Stabilization Program
2019 workshop schedule
---
MVgo Carpool discount
A partnership between the Mountain View transit agency and Waze will offer $2 discounted Waze carpool rides. During a six-month pilot program, commuters working in and commuting to Mountain View may join the MVgo Carpool to receive a discounted, flat rate of $2 per carpool ride. In addition, new riders who sign up will get $20 credit, and new drivers will receive $20 cash once it's been verified that they've completed at least one ride and have met Waze Carpool's criteria.
Sign up through the Mountain View Transportation Management Association.
---