Announcements
Shoreline West Neighborhood Association (SWAN) Virtual Forum of City Council Candidates
Saturday, September 19 at 7:00 - 9:00 pm
All MV city council candidates have been invited to participate and discuss issues of concern to the Shoreline West community. Questions submitted by residents in advance via e-mail to [email protected] will be given priority. Questions will also be accepted in the moderated comment field during the virtual forum.
Register here
---
League of Women Voters Los Altos Mountain View Forum
Monday, September 21, 7:00 to 8:30pm
---
Old Mountain View Neighborhood Association (OMVNA), City Council Candidate Forum on Zoom
Wednesday, September 30, 7:00 - 8:30 pm
---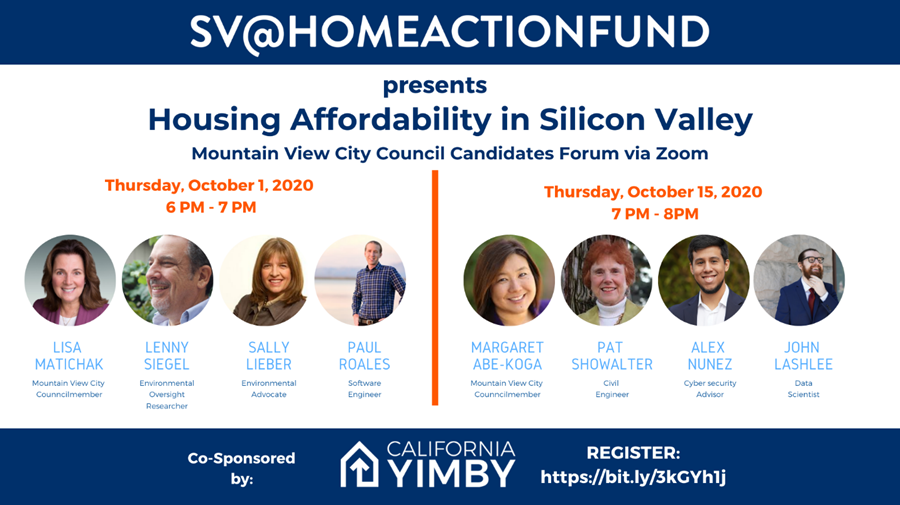 Mountain View City Council Candidates Forums
Thursday, October 1 from 6 PM – 7 PM
Lisa Matichak
Lenny Siegel
Sally Lieber
Paul Roales
Thursday, October 15 from 7 PM to 8 PM
Margaret Abe-Koga
Pat Showalter
Alex Nunez
John Lashlee
Co-Hosted by Silicon Valley Community Foundation, Tech Equity Collaborative, Abode Services, EAH Housing, First Community Housing, MidPen Housing.
---
Recordings of past city council forums
---
In keeping with our city's convention, I won't be endorsing any candidate for Council, nor will I attend any events organized by any Council campaign. However, I recognize that the pandemic impedes the ability to reach out to voters individually, and I know many residents appreciate the opportunity to meet candidates in person and ask questions. Therefore, I have offered to the candidates to share any meet-and-greets on this page and through my other communication channels.
To learn more about the candidates (in alphabetical order):
---
Mountain View Listening Forums on Local Policing
The Human Relations Commission (HRC) is hosting listening forums for individuals to share their personal stories and experiences of interactions with Mountain View police.
The HRC is seeking the engagement of residents, visitors, and workers of Mountain View in order to increase visibility of local police interaction with the community at large, as well as gather information for a Commission report to the Mountain View Police Department and City Council to help inform future police policy and programs. The forums are meant to create space for Mountain View residents to share their personal stories and engage in small group dialog about their experience with policing in Mountain View (positive, negative or neutral). Peninsula Conflict Resolution Center (PCRC) will facilitate the sessions.
The following are the dates and times of the sessions. The HRC also will have options for individuals who wish to tell their stories in written form or on a 1-on-1 basis. Please visit our policing forums site to learn more. Requests for a 1-on-1 interview can be sent to HRC Chair IdaRose Sylvester, [email protected].
---
Apply to a Commission
The City of Mountain View is accepting applications for appointments to the:
Bicycle/Pedestrian Advisory Committee (3 vacancies; 1 incumbent interested in recruitment)
Downtown Committee

Downtown Property Owners and/or Representatives of a Business in the Downtown (3 vacancies)
Business-at-Large (2 vacancies)

Environmental Planning Commission (1 vacancy)
Human Relations Commission (4 vacancies; 2 incumbents interested in reappointment)
Library Board (1 vacancy; 1 incumbent interested in reappointment)
Parks and Recreation Commission (1 vacancy)
Performing Arts Committee (2 vacancies)
Senior Advisory Committee (2 vacancies)
Visual Arts Committee (4 vacancies; 1 incumbent interested in reappointment)
Applications will be accepted until 5:00 p.m., Friday, October 2, 2020, in the City Clerk's Office at 500 Castro Street, Mountain View, CA 94041
Advisory Bodies are volunteer positions and serve in an advisory capacity to the City Council.
Applications are available in the City Clerk's Office and online here.
Please contact the City Clerk's Office at 650-903-6304 for further information.
---
Respond to the Census
You can help your community by responding to the 2020 Census.
If you still haven't completed the 2020 Census, it's not too late. You can respond to the census by mail, online, or by phone until September 30th.
To complete the census online, go to my2020census.gov.
To respond by phone, call 844-330-2020. Non-English speakers may visit https://2020census.gov/en/contact-us for phone numbers to respond in another language.
To complete the census by mail, fill out the paper questionnaire you received in April. Any questionnaire postmarked after September 30th will not be counted.
---
Affordable Senior 1-bedroom apartments (Wait List open)
The Fountains
2005 San Ramon Ave, Mountain View, CA 94043
Accepting Applications- Extended
July 27, 2020 - September 30, 2020
Applications are available at the Fountains Leasing Office during office hours (Monday through Friday, 8:00am-4:30pm) at the address below. Contact the leasing office to be sent the application by email, mail, or fax.
Leasing Office Contact Information:
Telephone: 650-966-1060 or 650-357-9773 TTD
Fax: 650-964-6203
Email: [email protected]
The Leasing Office will accept completed leasing applications from July 27, 2020 through September 30, 2020 during office hours. All leasing applications will be stamped with the date and hour received. Leasing Applications are accepted by fax, email or mail. Leasing Applications can be mailed by US postal mail, postmarked no later than September 30, 2020
To obtain a complete list of requirements including income limits and other criteria, please consult your application packet with leasing criteria available by reaching the Leasing Office provided above.
---
Court Seeks Candidates for Public Watchdog Agency
Recruitment begins for 2021 Civil Grand Jury panel
Presiding Judge Deborah A. Ryan has announced that the Superior Court of California, County of Santa Clara, is seeking volunteers to serve on the 2021 Civil Grand Jury.
The Civil Grand Jury, an arm of the Superior Court, is a part of the judicial branch of government. It serves as the county's civil watchdog agency and may examine all aspects of county and city government, special districts, and school districts. It is authorized to inspect and audit books, records, and financial expenditures, to ensure accountability of public funds. The Grand Jury may also inspect jails and juvenile detention facilities.
Grand Jury service affords citizens the unique opportunity to contribute to the efficiency of local government and play an integral part in ensuring that government officials are accountable to residents. Applicants must be 18 years of age or older, United States citizens, and residents of Santa Clara County. Service on the grand jury does require a time commitment of an average of 25 hours per week, or as determined by the Grand Jury.
Due to the challenges posed by the Novel Coronavirus (COVID-19) and in line with California Penal Code §905.5(b), the Court determined it is in the best interest of the institution of the Civil Grand Jury to transition from a fiscal year term to a calendar year term. This change was considered and approved by the County Board of Supervisors and has necessitated that the next term of the Civil Grand Jury begins on January 4, 2021.
Additionally, the Civil Grand Jury Ceremony to honor and discharge the 2019-2020 Civil Grand Jury, and impanel the newly selected 2021 Civil Grand Jury, has been rescheduled to Thursday, December 17, 2020, at 4 pm, and will be held remotely.
Persons interested in applying may obtain an application online at www.scscourt.org under "Civil Grand Jury". Questions may also be directed to Britney Huelbig, Deputy Manager for the Civil Grand Jury, at 408-882-2721 or [email protected].
---
Affordable Housing Applyathon
Community Services Agency (CSA) and Sunnyvale Community Services (SCS) are hosting a hybrid affordable housing workshop on Wednesday, September 30th, 2020. A virtual affordable housing presentation, followed by a safe application distribution. CSA and SCS will follow all COVID-19 guidelines Santa Clara County and the city of Mountain View and Sunnyvale have set forth. Please wear Personal Protective Equipment (PPE) and be sure to stay home if you are experiencing any COVID-19 symptoms to keep everyone safe. Thank you and we hope that you can join us! For more information, please contact Eonis Cibrian Pelayo at [email protected].
---
California High-Speed Rail - Draft Environmental Impact Report/Statement for San Francisco to San Jose Project Section
The California High-Speed Rail Authority (CHSRA) welcomes your input on the San Francisco to San Jose Draft Environmental Impact Report/Statement (DEIR/EIS). Comments are accepted until September 9, 2020. This is the final opportunity to provide comment on the Project's effects in your community.
---
#BikeMatchSV: Get a Bike, Give a Bike, Fix a Bike
#BikeMatchSV matches people who cannot afford a bicycle with people who have bicycles they are not using.
Cannot afford a bicycle but need one to get around?
Fill out a form and we will try to match you with a donor to receive a free bicycle. The priority is for essential trips, but all transportation needs will be considered
Have a bike you aren't using?
If it's in perfect working order, we'll match you with a recipient. If it needs a bit of work, SVBE will refurbish the bike and give it new life. We'll make an appointment for your drop-off.
Have a bike you aren't using?
If it's in perfect working order, we'll match you with a recipient. If it needs a bit of work, SVBE will refurbish the bike and give it new life. We'll make an appointment for your drop-off.
Want to help with the effort?
You can make a donation to cover the cost of bike parts (the average bike we refurbish requires $40 in parts). If you can help to repair bikes at home, please leave a message at the phone number below.
If you need a bike, have a bike you not using or would like to donate, please complete a form here: http://bikex.org/bikematch. If you need assistance, please call or text us at: 650-417-3091.
The #BikeMatchSV program is sponsored by the Silicon Valley Bicycle Exchange and the Silicon Valley Bicycle Coalition.
---
Overnight Ramp and Lane Closures on Interstate 280 In Multiple Cities within San Mateo/Santa Clara Counties
Santa Clara and San Mateo Counties – Caltrans will begin a resurfacing and improvement project on Interstate 280 (I-280), in the following cities; Menlo Park, Los Altos, Los Altos Hills, Cupertino, and Palo Alto. The project will begin north of Sand Hill Road in San Mateo County, to Foothill Boulevard in Santa Clara County.
Construction will include grinding and paving, curb ramps and guardrails enhancements to preserve and extend the life of the existing pavement and improve ride quality on I-280. Project activities will be conducted during the evening. Intermittent ramp and lane closures will take place with at least one lane for traffic throughout the night. Detours will be in place. Work will continue throughout the Summer of 2022.
Overnight Work Schedule:
Northbound and Southbound I-280
Monday through Friday: 7:00 PM to 7:00 AM
Residents will experience normal construction noise, which will be monitored.
Message and directional signs will be in place to assist motorists traveling in the area. For 24/7 traffic updates, follow 511.org: https://twitter.com/511SFBAY.
For real-time traffic, click-on Caltrans QuickMap: http://quickmap.dot.ca.gov.
---
Caltrain Electrification
In Summer 2018, Caltrain began performing work along the railroad corridor in Mountain View.
The activities during this time included locating underground utilities, testing soil conditions, inspecting signal/communication equipment, potholing, and pruning/removing trees in preparation for the installation and operation of the Overhead Contact System that will power electric trains.
Caltrain crews will be extending the existing set-out track approximately 500 feet in order to accommodate on-track equipment required for Caltrain Electrification. The current set-out track is between Farley Street and South Shoreline Boulevard in Mountain View. Construction will require a staging area for foundation installation, pole installation, construction material and pole delivery and storage as well as for loading and unloading of train cars. The loading and unloading of construction train cars and equipment will require the use of trucks, loading of construction trains and occasional use of backup alarms. Staging is expected to begin in October 2019 with construction occurring over a 8-12 month period.
Vehicles will enter the staging area off of Central Expressway at Farley Street. Egress will occur south of South Shoreline Boulevard back onto the Central Expressway.
.
CONSTRUCTION AREA MAP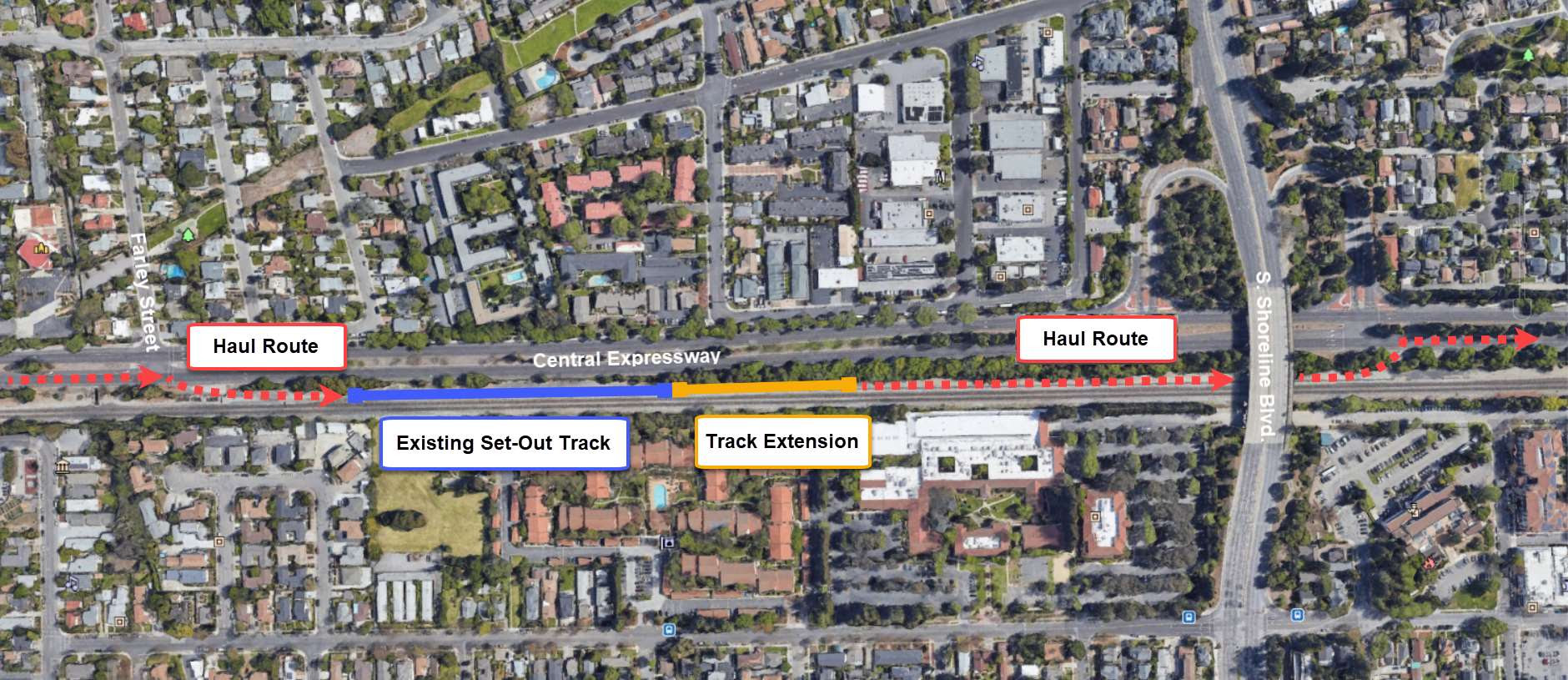 ---
Mountain View Green Building and Reach Codes FAQ
The City's Community Development Department has created a new webpage to provide information regarding the recently adopted Reach Codes.
Information regarding the City's Amended Green Building Codes (MVGBC) and Reach Code:
---